Droopy Eyelids: Causes, Treatments, Risks and More
Are droopy eyelids getting you down? You're not alone. Many people experience drooping in one or both eyes at some point in their life. Along with changing your appearance, droopy eyelids can cause headaches, impaired vision and face muscle pain.
There are a variety of causes of droopy eyelids, from genetics to aging, and each case is different. Luckily, there are solutions. But before we get to medical advice diagnosis or treatment, let's look at the most common cause of a drooping eyelid. We'll also go over risk factors, symptoms, how to get your eyelid condition diagnosed, treatment, and prevention. Let's get started so you can learn the best solutions to your droopy eyelids.
The Most Common Causes of Droopy Eyelids
Having drooping upper eyelids is called Ptosis or acquired blepharoptosis, and it occurs when one or both hang over your eye. The droop may be slight, or it could cover the pupil and impact your vision.
There are a couple of common causes of droopy eyelids, including:
Aging because your eyelid muscles start to weaken
Trauma from an accident
Other medical conditions like myasthenia gravis
Genetics (you can be born with droopy eyelids)
Surgical accident
Extreme eye rubbing
Uncomfortable contact lenses
Neurological conditions
Swelling
Eyelids tumors or cysts
Nerve damage
Botox injections
Depending on the root cause of your condition, your droopy eyelids may heal naturally, or you may need special treatments. If you are experiencing ptosis due to age, it will happen slowly. You may not notice it until it's advanced or you look at a photo of yourself from ten years ago and notice the difference in your appearance.
What Are the Risk Factors for Having Droopy Eyelids?
Even though aging is the most common cause of drooping eyelids, ptosis can affect anyone at any other stage of life. Your chances for developing ptosis increase with these risk factors:
Rubbing your eyes too much
Wearing contact lenses that are rigid
Having an eye surgery
To prevent increasing your risk level for ptosis, opt for using eye drops when your eyes are bothering you instead of rubbing them. If you wear contact lenses, you should work with your eye doctor to make sure you have the right brand that fits and feels comfortable on your eye.
If you are planning to undergo eye surgery, whether elective or necessary, make sure you understand the added risk of having droopy eyelids afterward so you're prepared to seek treatment post-surgery if it is needed.
What Are the Most Common Symptoms of Droopy Eyelids?
The most common symptoms are the droopy eyelid itself and the impact on your appearance. However, droopy eyelids don't just impact your appearance. They also come with other symptoms that range from mild to extreme.
The most common symptoms include:
Vision problems
Extreme migraine headaches
Tired face muscles
Frequent tears
Lazy eye
If you can't see well due to your droopy eyelid, you will have to frequently tilt your head back and raise your eyebrow to see better. This exhausts your muscles and causes headaches. Eventually, this will start to get in the way of your daily life and hinder your wellbeing. Plus, the physical changes can have a psychological impact on you.
How Do You Get Diagnosed With Ptosis?
Your optometrist can diagnose ptosis during an eye exam. We will ask about your medical history and when you started noticing your eyelid or eyelids drooping. They'll also ask about family history since it could be congenital ptosis. Finally, they'll ask about any accidents or trauma that may have caused your ptosis.
During the exam, we will access your muscle function and superior vision with a visual field test. We'll also look for any nerve damage or other abnormalities that could be causing your eyelids to droop. Imaging tests may be needed to get a full picture of your situation.
It's possible that your eye doctor will refer you to a neurologist to order a blood test if we suspect your ptosis is due to a neurological condition. To determine the severity of your droop, we may measure the distance between your pupil and the bottom of your eyelids. Finally, once the cause and severity are determined and you have a diagnosis, we will discuss treatment options with you.
Ptosis Treatment Option
At Dominion Eye Care we recommend a product called Upneeq. This is the first and only FDA-approved eyedrop for acquired blepharoptosis or droopy eyelids. This is an eyedrop solution that will stimulate the muscles in your eyelid and trigger lifting the eyelid. This is a non-surgical option.
Here are a few of the benefits of going with Upneeq's eyedrop solution:
Improved superior visual field in patients with functional deficits*
Lifted upper eyelids quickly*
Delivered significant effect at 6 hours with one drop in each ptotic eye*
Creates an important treatment option for patients
You can contact us today for more information and pricing for this solution. Here are a few before and after shots of using this product.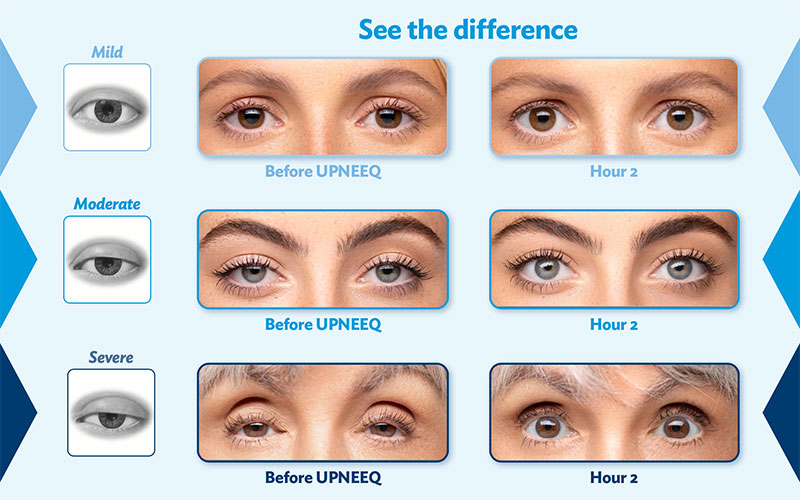 How Can You Prevent Droopy Eyelids?
Ptosis due to genetics or aging is difficult to completely prevent; however, you can still protect yourself from increased risk with these medically reviewed methods. The best prevention methods are to avoid using contact lenses and rubbing your eyes. Like we stated before if you do need to use contacts, make sure they are fitted properly and don't cause irritation. You can also use prescription eye drops to soothe your eyes and feel more comfortable.
According to Healthline Media, a Red Ventures company, droopy eyelids can also be caused by a Botox injection in your forehead or between your eyebrows. This is a rare side effect, but it does happen. If you are getting Botox, make sure it's administered by a highly-skilled, trained, and certified professional to reduce your risk of ptosis.
If you do have droopy eyelids after a Botox injection, we will go back to normal in four to six weeks. While you wait, you can use eye drops or a corrective Botox injection to resolve the issue.
Treatment at Dominion Eyecare
If you are looking for expert medical help to fix your drooping eyelids, Dominion Eyecare is the best option. We treat several common eye diseases at our Virginia Beach office. We can perform an extensive examination to diagnose your ptosis. After the diagnosis, we'll discuss treatments and possible corrective surgery options. Our specialized tests will determine if surgery is medically necessary.
If it is, we can help you get it covered by your insurance and connect you to a highly-skilled plastic surgeon. After the surgery, we will monitor your condition and all other aspects of your eye health. We care about your health and vision and go the extra mile so that patients get the help they need.
Clear Up Ptosis Today
Droopy eyelids should not hold you back from living your life anymore. There are effective solutions that can fix your vision, restore your appearance, and eliminate pain. If you think you have ptosis, schedule an appointment for a full eye exam today. We will determine whether your case is severe or mild and whether non-surgical treatment options will help you or if corrective ptosis surgery is necessary. Either way, healing is in sight. Contact our office today for additional information to get started on your journey.