Everything to Know About Cataracts and How They Develop
Cataracts are one of the most common types of eye conditions to develop and can cause significant vision problems due to a breakdown of proteins. This can affect the individual's daily activities and even their ability to drive. It is important to learn more about what causes cataracts and how they're treated.
What are cataracts?
A cataract is when your eyes natural lens becomes cloudy and can cause people to feel like they are staring through a blurry window. They develop gradually and do not typically affect the individual's vision until a later time. The tissues start to slowly break down and begin to clump together. This leads to small parts of the lens becoming cloudy. Overtime the cataract becomes a lot denser and can cover more of the lens. Light starts to become scattered and blocked, which blurs objects and prevents anything from looking clear or sharp.
If you have cataracts, the condition is likely present in both of your eyes. One eye may have better vision than the other eye because the eye condition can develop at different rates.
Who gets cataracts and what are their most common causes?
Older adults are more prone to developing cataracts as the tissue starts to deteriorate over time. If you suffer from an eye injury, it can increase the risk of cataracts over time because it can cause damage to the tissue. If you've undergone eye surgery in the past, you may also develop these eye problems. There are also inherited genetic disorders that can lead to cataracts. Some health conditions and diseases like diabetes can also gradually lead to cataracts.
If you use steroids consistently over a long period of time, this also increases the risk of developing cataracts.
What are symptoms of cataracts?
There are several symptons associated with cataracts, which include an inability to see clearly in dim or dark settings, especially at night, due to the lack of clarity with the lens. This can put many people's safety at risk while spending time driving at night. Some people start to have a sensitivity to light or glares, while others see halos that develop around bright lights, which can be distracting. It's also common for there to be frequent changes in your vision and prescription eyewear that you use each day.
Cataracts can also cause double vision in one eye. Some colors may start to fade, whereas other colors have a yellow tint or hue. Typically, the cataracts affect a small part of the lens before it starts to grow and covers a larger portion of the eye. As it starts to grow, the symptoms become a lot more noticeable than in the early stages of the disease.
It's important to immediately schedule an appointment with your optometrist to have a vision test if you notice any difference in your sight. An immediate appointment is also crucial if you start to see flashes of light or experience any pain in the eyes.
Are there different types of cataracts?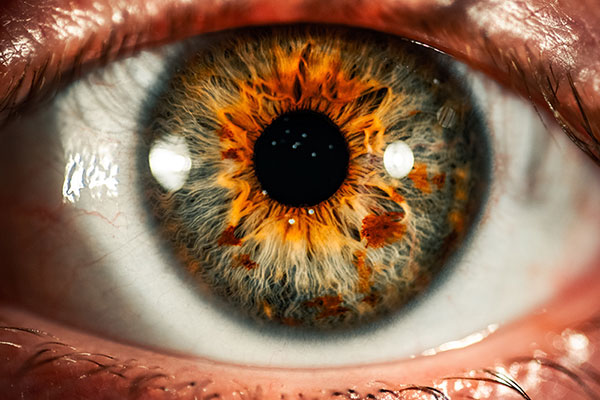 There are many different types of cataracts and the various ways they can affect the eyes. You may have cataracts close to the center of your lens, which are called nuclear cataracts. This type of cataract is unique because it can improve your vision and make your eyesight more nearsighted. You may notice it's easier to read. The cataracts can then cause the vision to develop a yellow tint with a cloudy hue present. As the disease starts to progress, it can make the lens look brown or yellow, which can cause you to have difficulty telling the difference between various colors.
Some cataracts even affect the outside of the lens and are known as cortical cataracts. You may notice streaks or white lines present, which can start to grow closer to the center of the lens over time. This starts to block any type of light that tries to pass through.
Posterior subcapsular cataracts are another form of this condition and are prone to affecting the back of the lens of the eyes. It starts to develop on a small area and causes brighter lights to appear dimmer. Halos and glare can also start to develop. Unfortunately, this type of cataract usually progresses much faster. Some people are even born with cataracts, which are known as congenital cataracts. This type of condition typically develops during childhood and is often due to genetics. In some cases, it is even caused by trauma or infections.
How do doctors diagnose cataracts and what are the treatment options?
Most eye doctors diagnose cataracts by completing a comprehensive eye exam. They'll ask you about your symptoms and will perform an eye exam. You can expect to take a visual acuity test, which determines your ability to see different letters from a distance. Additional tests may also be performed, which requires the pupils to be dilated to get a closer look at the lens. This makes it easier to examine the back of the eyes where the optic nerve and retina are present. The optometrist will examine your eyes through a slit lamp microscope to look for any cloudiness or yellow hue on your lens.
Cataracts do not heal on their own, and there are currently no medications available to treat the condition. There are a few temporary treatment options available for cataracts, which include wearing eyeglasses and having stronger lighting in the home or office when the cataracts first develop. Those who are unable to read or drive often undergo surgery to permanently treat the condition. Most people can wait before they need surgery due to the slow progression of this type of eye condition. This is when you will get a stronger lens before the condition becomes too severe. The outpatient procedure involves removing the lens on each eye and replacing it with an artificial implant. It is considered to be a safe and extremely common procedure. Patients can choose between traditional surgery and laser-assisted cataract surgery to remove the damaged lens. Laser-assisted cataract surgery is designed to provide a higher level of precision.
What can I expect after cataract surgery?
After you undergo cataract surgery, it may take a few days for your vision to improve and be restored although most people notice an immediate improvement in vision. The results are not immediate. You will likely have blurry vision as your eyes start to heal. Many people notice that colors look a lot more vibrant and brighter. After the surgery is performed, you'll be required to schedule an appointment one day after the procedure. This is to ensure the eye is healing normally. Do not touch or rub your eyes at any time.
You will likely be prescribed eye drops to improve your ability to heal. You will not be able to operate a car or perform different types of activities during the day of surgery, making it necessary to rely on another individual for assistance. You can expect the procedure to improve your vision. Although most people experience permanent results, this is not guaranteed. Follow-up exams are necessary to ensure that your vision is stable. If your vision becomes blurry months or years later it may be due to the capsule where the implant is inserted becoming cloudy. The surgeon can restore vision with a 30-second laser procedure if needed.
How do you prevent cataracts?
There are a few preventative measures to take to reduce the risk of developing cataracts. Medical professionals recommend scheduling routine eye exams to ensure an optometrist can detect any early signs of cataracts and treat it before it progresses. Eye exams are typically scheduled annually, but this can vary depending on your age and eye health.
You can also reduce the risk by quitting harmful habits like smoking. Smoking doubles the risk of developing cataracts and is one of the most important steps to take in managing your health as you get older. If you are diagnosed with a specific condition or disease, it's crucial to be consistent with taking your prescribed medications and following the instructions of your medical professional.
Eating a healthy, clean diet that includes plenty of fruits and vegetables is also necessary for protecting your eye health. Colorful, natural foods are packed with more nutrients and can improve your vision. The antioxidants that foods contain may maintain your vision over time. You can even resort to taking antioxidants as a supplement, which offers the same benefits. If possible, you can also avoid or limit your consumption of alcohol.
While spending time outdoors, always wear sunglasses. Exposure to sunlight can cause damage to the tissues in the eyes and can contribute to your risk of developing cataracts. Purchase sunglasses that have a lens that blocks harmful UV rays.
What are the risk factors for cataracts?
There are many different risk factors for developing cataracts, which include getting older, too much exposure to sunlight over time, eye injuries or inflammation, previous eye surgeries, and prolonged use of certain medications like steroids. Those who drink a lot of alcohol also put themselves at a higher risk. Additional risk factors include obesity, diabetes, and high blood pressure.